THE SUDBURY STAR, SUNDAY, SEPTEMBER 24, 1995
CINEFEST '95
"Awards handed out at the Sudbury Star/Cinefest Videomakers' Competition"
"Technical problems fail to dampen enthusiasm"
By KENNEDY GORDON Star Staff Writer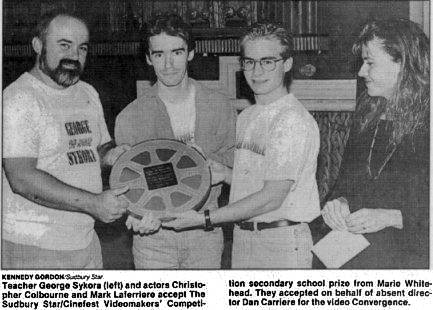 "Troubles? They've had a few. At The Sudbury Star/Cinefest Videomakers' Competition screening, held yesterday at the Grand Theater, there were a few minor snags. The first video, Adele Seguin's Cest La Vie, came on the screen clear and bright, but without sound. And sound is somewhat essential in a music video.
After a moment, the image cut out, only to start up again - sans sound - and again, switched off. "Sorry," called a voice from backstage to the accompaniment of audience laughter. That would be Sean Farnel, Cinefest's film development coordinator and the man behind the competition. Later, he said he and his sound crew hadn't had time for a sound- check before the screening. "And we had a bad cable," he added.
Once the problem was solved the screening went off without a hitch. A dozen finalists (from over 40 entries) had their video's played for an audience of about 100. The competition was open to all styles, and it showed. From music videos to short documentaries to video movies, every style of video-making appeared.
There were two categories: secondary school and open. The winners were annouced before the screening, with the $500 prize in the secondary school category going to Dan Carriere's Convergence and the $1,000 open category prize awarded to Ben Paquette for An Uneven Scroll. Both winners are from Sudbury.
Convergence is a 15-minute science fiction piece about a young scientist (played by Carriere) who brings a teenager (Mark Laferriere) over from a parallel world in which Canada is Rupertsland and Sudbury is called Ramsey Basin. The project borrows from the Fox television series Sliders, but adds a charming touch of it's own.
He had the script at the beginning of the semester," said Carriere's teacher, George Sykora. Sykora teaches communication technology at Sudbury Secondary School. "I always get apprehensive when a student comes in with a big project like this, but Dan did a good job. It was all he worked on all semester."
The video was shot with a miniscule budget, making use of the schools equipment. The only major budget expenditure, joked Sykora, was 24 welding rods. "That's me arc welding," he said of the film's dimensional-transfer special effect.
"It was just us using the existing facilities," said Christopher Colbourne, who appeared in the video. "And I don't think any of us ever expected it to go this far."
Carriere is now a student at Confederation College in Thunder Bay, studying film production and couldn't make it to the ceremony."

(The remainer of this article, which discusses the other contest winner is not available.)
---
---